Boaz Maya - Artistic lighting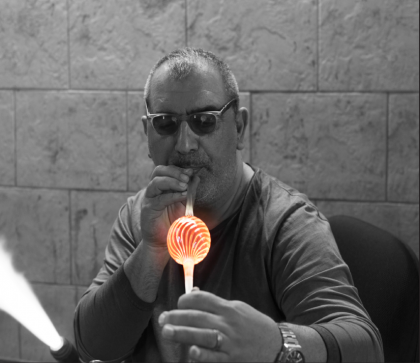 Boaz Maya , started to learn design of glassblowing 34 years ago when he was just 17 years old. Maya was Inspired by his uncle, Haim Hazan , that was a master in artistic glass.
Maya was exposed by Hazan to the secrets of glass and learned the profession in a fundamental way, Starting from the glass elements to the preparation of varied pieces of glass.
During his career he flew to various exhibitions around the world such as Germany, Netherlands and Milano. he was exposed to new designs that influenced him and he began to focus on lighting.
He creates his own works without any help or machines and all his works are by his hands only.
You have to see the work of the artist at the moment he does the work of blowing glass and enjoy the beauty of hand work.

In his works you can see various techniques of painting glass, a combination of one color in another, frost colors, glass fragments and most important of all- the colors of the Luster, which is his uniqueness.
The skill of the Inflating activity and the combination with fire is very impressive.
Holding the glass and rotating it with his hands while exhaling into the glass is special ,and you can see the impressive and amazing skills of the artist-something that creates a game of fire and glass.
Read more...